ANTOINE DELPERO EST VICE CHAMPION DU MONDE 2010
MAKAHA, Oahu/Hawaii (Thursday, November 4, 2010) :
Duane DeSoto (HAW), 33, won the Oxbow ASP World Longboard Championship over Antoine Delpero (FRA), 25, clinching his first ASP World Longboard Title at his local break of Makaha after 17 years of ASP WLT competition.
The Oxbow ASP World Longboard Championship was a standalone event, with Desoto's single event victory over the world's best longboarders earning him the 2010 ASP World Longboard Title.
DeSoto, who posted some of the event's highest scores, took five heat victories to clinch his inaugural ASP World Title in front of his friends and family at his home beach of Makaha, marking a career high for the talented Hawaiian.
"This feels insane," DeSoto said. "I've been trying for so many years and I'm 33 and I finally got a title. I started doing these when I was 16. I'm just so incredibly happy to be here and it couldn't get any better. It's right here at Makaha beach, where I grew up my whole life with my family. To have my beautiful family here behind me, I don't even know. I don't know when it's going to kick in. Today was all time Makaha. Everything just lined up beautifully."
DeSoto's rise to the top was nothing short of impressive, as he capitalized on his intimate knowledge of the righthand pointbreak to top two-time ASP World Longboard Champion and fellow Hawaiian Bonga Perkins (AHW), 38, in the Semifinals before defeating Delpero in the Final.
"Looking at Bonga's (Perkins) high scores for the contest, I knew I had to turn it on," DeSoto said. "I knew if I didn't do my best surfing, there was no final for me. It really made me turn the throttle on. Then I had Antoine (Delpero), as consistent as he is, in the Final, I knew I had to turn it on again, but I just took it heat by heat. I didn't want to focus my energy on the future or the past. The clock never went so slow in that Final once I took the lead."
Delpero, who displayed memorable performances throughout the event's entirety by combining classic longboarding and stylish rail-to-rail surfing, was one to watch in every round, but was unable to match DeSoto's charge in the Final, finishing ASP World Longboard No. 2 for 2010.
"I did my very best and I'm happy with my result," Delpero said. "I enjoyed Makaha. Being out there with only one other guy and looking at the beautiful mountains and having great waves, it was a great event for me."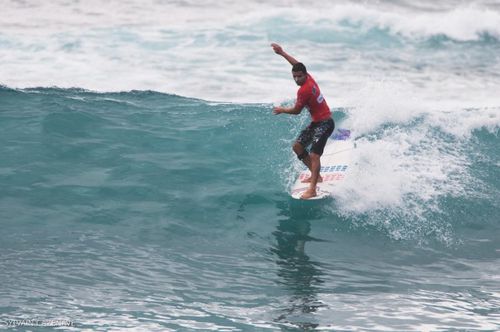 Pour être informé des derniers articles, inscrivez vous :